This page may contain affiliate links. If you make a purchase through any of these links, I may make a small commission. Click here for my full disclosure statement.
Back in 2008 I had the worst break-up ever: I split ways from Victoria's Secret. And I left her for cheap lingerie.
Over time, I began noticing a decline in the quality of their products despite hiking prices. Panties that were 5/$25 became 5/$27.50, the 3/$30 panties became 3/$35, and 2/$40 bras and $42.50 Very Sexy and Dream Angels price tags were forever gone.
Crushed, I went elsewhere, and now that I look back at it, I'm so glad I did.
More Affordable Fashion Posts:
With the Victoria's Secret fashion show popularity on the decline and competing brands like Savage x Fenty stealing the spotlight at a much more attainable price tag, it's hard to believe that Vicky truly is the best girl to go bra shopping with. I started saving a ton of money on bras, panties, and lingerie when I chose to shop elsewhere.
Believe me when I say this: there are better quality and prettier lingerie pieces out there for a fraction of the price. And to help you break up with the toxic relationship that is Victoria's Secret, I've curated my favorite cheap lingerie retailers for you, featuring pieces well-under $40 (some of my favorites are even under $20!). Continue reading below for lingerie enlightenment.
I don't have much luck finding exactly what I want at Forever 21's brick-and-mortar stores, but they have the cutest collection of trendy bralettes, panties and even racier pieces like babydolls and bustiers online. The best part? Most of their intimates are under $20.
Forever 21's intimates seem to cater to smaller-chested women due to their extensive selection of bralettes and lacey numbers, but it seems they are slowly expanding towards the plus-size demographic. Yay for meeting customer demand!
$19.99 $13.99
$19.99 $13.99
$9.99 $6.99
$27.99 $20.99
$12.99 $9.09
$19.99 $13.99
ASOS is the one-stop shop for every single size: they have lines specifically for petite, tall, full-bust, and plus-sized women, and this isn't just limited to their intimates but for all ASOS-brand items.
Although ASOS carries a number of more expensive brands, their own brand is always current with the trends and manages to stay within reasonable prices. You can usually get a full matching lingerie set for around $50-$60 which is impressive, considering that amount can only score you a single bra at most retailers that offer similar quality.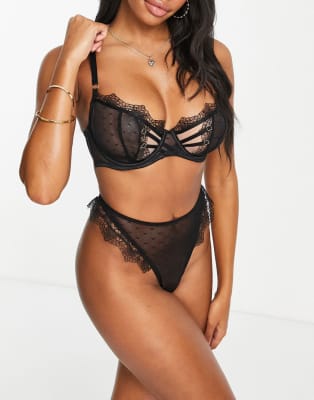 $45.00 $27.00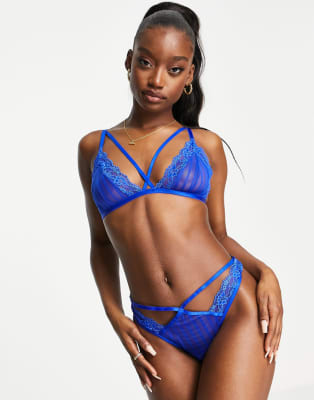 $20.00
$35.00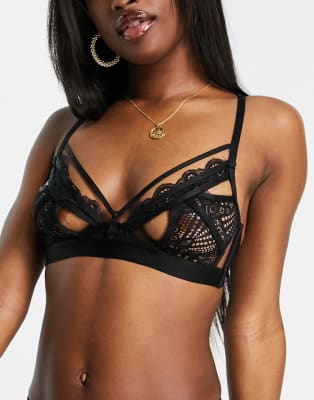 $23.00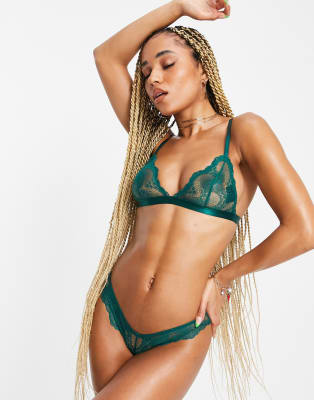 $17.50
$32.00 $24.00
H&M has always been known for their simply chic style and impeccable outwear, but not many people know of the hidden treasures in their intimates section (and probably because the company usually places the intimates in a hidden section towards the back of most stores). During the winter holidays, H&M releases plenty of gorgeous cheap lingerie in reds, pinks and many other Christmas colors. Their basic bras are perfect for everyday, and they also have bras comparable to Victoria's Secret's Bombshell bra, for less than half the price.
$12.99
$17.99
$12.99
$24.99
$34.99
$12.99
When hearing the name, most Victoria's Secret addicts will shudder or laugh. True, Frederick's of Hollywood never had a good reputation, resulting in the closure of all brick-and-mortar stores nationwide, leaving them only with the ability to sell online. However, I took a chance out of curiosity to browse their online store and was not disappointed. Frederick's always has tons of sales and even without the discount, their prices are more affordable than Victoria's Secret. Cheap lingerie galore.
Remember Victoria's Secret's Biofit bra? Well, for some odd reason it was discontinued and Frederick's happened to adopt the same exact bra, name and everything. Seeing as I really liked this bra, I ordered it for only $14.99 from Fredericks. When it arrived in the mail, I was really surprised. It really was my beloved Victoria's Secret Biofit!
My absolute favorite bra from Frederick's has to be their Hollywood Heart Throb Bra – it seems to sell out quite frequently, and for a great reason: the lift of this bra is extreme, but manages to be far more natural than VS's Bombshell bra, which makes your boobs look like torpedos. This bra gives about 1 1/2 additional cups more to your current size, flattering you while staying true to your natural curves.
$14.00 $8.99
$23.00
$37.00
$19.00
$4.00
$10.00
La Senza's selection almost feels like Victoria's Secret: they have a huge selection of sexy and trend bras to offer a variety of support, from unlined bralettes to cups that add 2-cups. Remember the amazing Incredible bra from Vicky's? Well, the Body Kiss bra from La Senza looks and feels exactly the same.
Aside from comfortable and functional bras, La Senza carries a lot of really cute and fashion-forward styles at affordable prices.
$34.95
$39.95
$24.95
$29.95
$34.95
$39.95
Although millions of people shop for household products on Amazon daily, you probably wouldn't expect to find lingerie items like a super similar thong to Victoria's Secret's "The Lacie" thong (which was basically a copycat for Hanky Panky's original thong). These comfortable and cute thongs have been replicated everywhere, and Amazon has plenty of brands that carry the same style of thong for much less of a price.
Aside from these lace thongs, Amazon carries a ton of really affordable bralette and panty sets as well as camisoles and teddies.
$11.98-$16.98
$14.99-$17.99
$17.99
$6.98-$13.98
$6.49-$11.99
$6.99-$13.99
Although there are many other affordable lingerie retailers, these brands have been my top 5 favorites for years now. What are your favorite lingerie brands to shop? Let's chat in the comments!
Liked this post? Subscribe to my newsletter below for more affordable fashion delivered to your inbox!
More Affordable Fashion Posts:
PIN IT: