This post is sponsored by Shopbop and GoJane.
This page may contain affiliate links. If you make a purchase through any of these links, I may make a small commission. Click here for my full disclosure statement.
You may have seen celebrities like Bella Hadid, Kourtney Kardashian and Kaia Gerber sporting one of Australia's most popular clothing labels, I Am Gia. From the popular Cobain Pant to the Pixie Teddy Coat, many of their pieces are casual, contemporary and sexy, making the label highly-coveted amongst many. I Am Gia is also considered one of the most stylish "affordable" designer labels of the moment, but to most people their prices can be a bit exorbitant – at least for people like me.
I've collected several budget-friendly pieces in my wardrobe that have uncanny resemblances to the most iconic I Am Gia pieces. Keep reading for links on where to buy them!
Although the Alya top isn't currently sold on I Am Gia's official website, its legacy still lives on at retailers like Urban Outfitters. This ruffle-trim top was one of the earlier pieces that I Am Gia quickly became known for. Luckily enough, Aliexpress has more than a few stores that carry a very similar blouse starting at $9.99. However, be wary of the sizing and consider sizing up 1-2 sizes since Aliexpress sizing is Asian, which runs much smaller than US and Australian sizing.
Check out Alya-inspired tops on Aliexpress:
*PS: I know many people seem to be sketched out by Aliexpress, but I frequently buy from the website all the time! Shipping is from China, so expect orders to arrive between 1-2 months and that the sizing will run smaller than normal. Aliexpress also offers buyer protection so if you have a bad experience, you may be eligible for a refund. 😉
I Am Gia Polaris Top and Pant: $60 & $90 vs. $49.30
$24.65
If you prefer a more bold vibe, the Polaris top and pant set might be up your alley. Popular in both lime green and orange, you've probably seen this coordinate set a lot during spring. GoJane carries an exact set in both orange and lilac that's currently on sale for only $24.65! Get it here.
Sold out? Check out more Polaris-inspired items on Aliexpress:
The Cobain Pant is one of I Am Gia's most popular items to date. The 90's-inspired baggy pant pairs perfectly with a tiny crop top to balance badassery with femininity. It's also one of the most comfortable pairs of pants you'll ever wear. Luckily, you can snag a similar pair of the Cobain pants at GoJane for $48 – and right now it's on sale for $24!
If you prefer a less baggy, more fitted pant that's similar, GoJane also has a slim-fit version that's currently on sale for $21.60. Shop it here.
Sold out? Check out more Cobain-inspired pants on Aliexpress: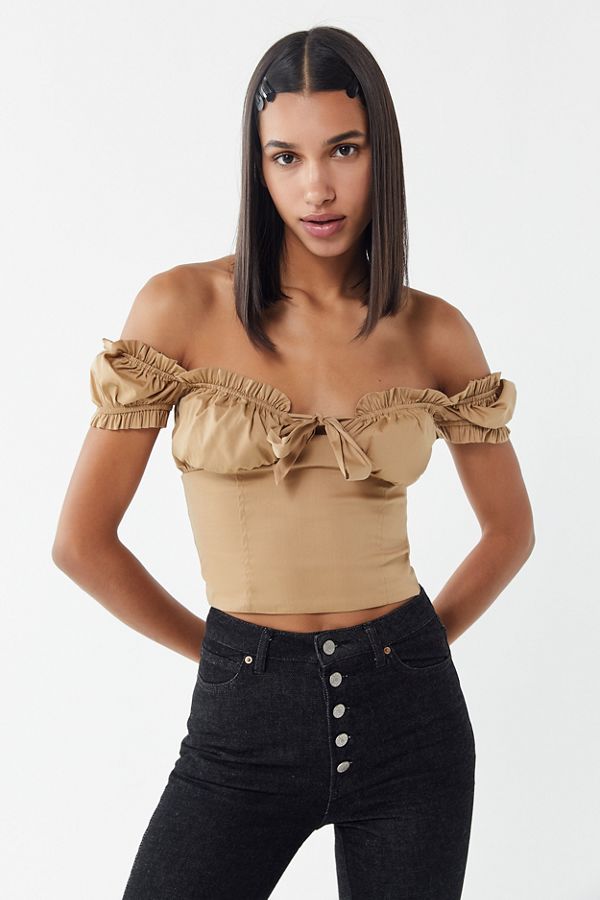 The Naomi top is such a form-flattering top: the seams underneath the bust line along with the form-fitting waist gives smaller chests appear more full while lengthening and flattening the waist. Aliexpress has so many stores that feature a similar blouse style, all under $15.
Check out Naomi-inspired tops on Aliexpress:
Eerily similar to the Ankaa top from I Am Gia, this cute square-neck top from GoJane is a fraction of the original price and features extremely minor differences in design (like the buttons and a slightly more cropped profile). But would I spend $70 on the original? Not sure if I would shell out that much when I can get a similar one for less than $13. Grab it here.
Sold out? Check out more Ankaa-inspired tops on Aliexpress:
I paired my GoJane top with this super girly yet tomboy miniskirt that also comes with a chain, which may or may not be inspired by the Cobain Pant.
The popular Pixie teddy coat brought back teddy coats from the 90's. And although $80 might be a reasonable price for a coat, for those who live in warmer climates may not feel a need to invest that much in a coat if the cold season is short. Aliexpress carries the same style teddy coat for under $30!
Check out Pixie-inspired coats on Aliexpress:
Not many brands can get leopard-print coats right. The spots might be too big, the color might be too yellow or too pale, the fit might be too boxy, the list goes on and on. The Stefani coat offers the perfect relaxed fit, print and color, making it the perfect coat to spice up a casual outfit on cold days.
I bought this exact coat on Aliexpress last winter, and to be honest, I wasn't expecting too much quality. I was surprised! It's become one of my favorite coats and I can't wait to bust it out again as soon as the temperature drops.
Check out Stefani-inspired coats on Aliexpress:
Styling Tip: Add A Cabby Hat
Cabby hats have been trending since last year and I don't expect them to go away yet. They spice up any boring outfit and add that extra oomph to anything! I find that cabby hats look absolutely great if you're trying to catch that I Am Gia vibe.
Hat Attack carries some great-quality solid color cabby hats that are currently on sale for $27.50. If you're looking for printed or multicolored cabby hats, Brixton has some fun styles that are also on sale, starting at $17.50.
Styling Tip: Pair Crop Tops with Boot-Cut Pants or Baggy Pants
I Am Gia outfits are typically crop tops or even skimpy bikini tops paired with boot-cut pants or baggy pants. If you have any of the above, mix it up and see if you can create something that screams I Am Gia.
What are your thoughts on the I Am Gia craze? Let's chat in the comments and don't forget to subscribe to my newsletter for more budget-friendly fashion tips. Shop more I Am Gia-inspired outfits below.