This page may contain affiliate links. If you make a purchase through any of these links, I may make a small commission. Click here for my full disclosure statement.
It has been a wild week. I admit that for the weeks leading up mid-March, I was reluctant to accept the news of COVID-19 sweeping the world. Social media was getting increasingly heavier on me and I even announced on my Instagram stories that I didn't want to contribute to the fear pandemic by posting more about it. However, with California now on a statewide stay-at-home mandate, I can't really ignore it anymore.
This week I've been focusing on maintaining my mental health by learning how to cope with public hysteria as well as being isolated. I already work from home so my routine is no different than before, but the doomsday feeling that social media has adopted has made me unable to mentally step away from all of this. I hope this week's Friday Favorites helps you in some way with all that we've been dealing with from COVID-19.
More Friday Favorites:
---
Decompressing and destressing have been a daily to-do for me. I've been religiously taking candlelit baths away from my cell phone prior to bedtime, and it's really helped with managing my anxiety levels and allowing me to drift off into sleep. I've been staying away from bubble bath solution and using Edens Garden Salt Soaks instead: the salts are detoxifying and may help alleviate pain, and the aromas are so soothing. I've been alternating between the Lavender Magnolia and Good Night blends, but sometimes I mix both of them if I'm feeling indecisive.
---
I normally don't like wearing plain beanies because I feel like it really hides the feminine touch of my hair, but this Carhartt beanie does a great job of keeping my head warm while being stylish at the same time. And I have an obsession for camel-colored anything, so this beanie was a win in my book. The product image shows the back of the beanie with "Carhartt" on the rear, but the front has the iconic square logo.
---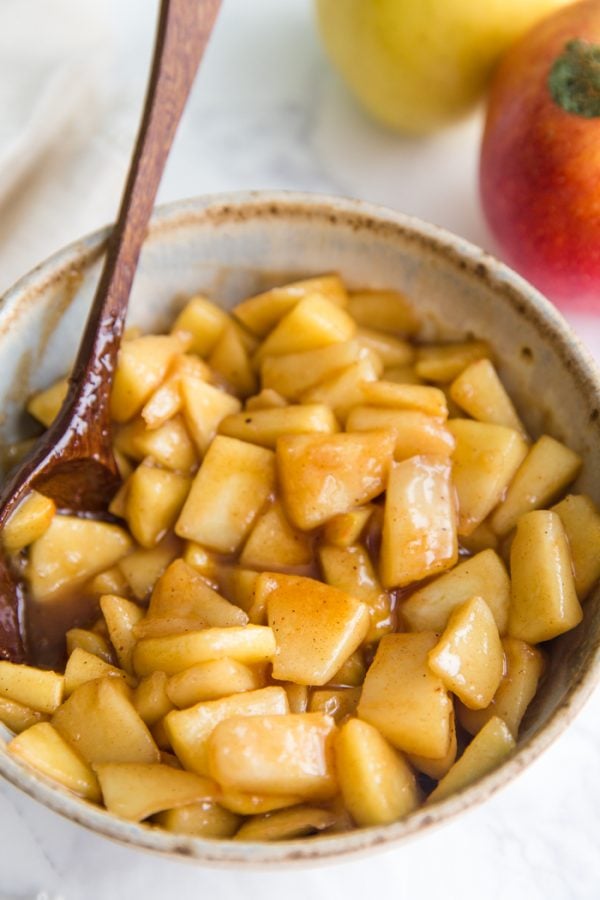 All this past month I've found myself emotionally eating away at my stress – both too much food as well as poor quality, high-calorie food. I needed some sort of guilt-free snack I could make that was quick and easy but still satisfied my sweet tooth, and these easy cinnamon apples definitely do the trick! It's pretty simple and I've been making it every day for breakfast or a snack.
---
It's been nearly one year since I got my Noom app subscription, and I have not regretted a single day of it. Noom's weight loss app is more than logging your meals and tracking your exercise – this app was designed by psychologists to help people struggling with weight loss understand what really hinders them. The topics are extremely interesting and involve things like social pressure, emotional eating, as well as valuable coping mechanisms to overcome those food-based emotional impulses. Additionally, you also have a weight loss coach and a support group within the app to help hold you accountable and support you through human connection.
Since coronavirus has emerged in the United States, I've found myself much more anxious lately and eating an endless amount of calorie-heavy snacks to deal with my emotions. Logging into my app every day and rereading articles about coping with stress and talking to my support group has helped me tremendously. It's not only helping me get back on track on my weight loss goals but also giving me tips on how to cope with this collective chaos that's happening in the world
Noom costs around about the equivalent of a gym membership, but I actually recommend it even more than paying for gym access because it's much more likely to yield results if you stick to it. I started using Noom in June 2019 at 155.0 lb and as of March 2020, I'm now 132.8 lb! Although this isn't the first time I've lost over 20 lbs, this has been the longest time I've been able to sustain keeping the weight off. I really owe it to Noom's unique psychological approach to weight loss, and I think this time around I'll be able to actually keep the weight off.
---
I've been spending my free time cleaning and reorganizing my home, and after tackling my office I've fallen right back in love with my Billy bookcases. I use them to display my handbags and shoes (as seen here, here and here). If you have a large walk-in closet or an empty room, Billy bookcases are such a great way to create a custom-looking wardrobe for a literal fraction of the price. The standard Billy bookcase is only $59, but they have so many other variations so you can mix-and-match and truly create your own custom-built wardrobe.
---
The heavy energy we've been feeling for the past few weeks feels like we're in a pressure cooker that's about to burst. I don't know if you take energy work into consideration as much as I do, but I've been lighting sage in my home many times over the past few weeks to keep the energy in my home calm and free of anxiety and overall bad juju.
Many places charge an arm and a leg for sage bundles, but I restocked on this 3-pack of 9-inch sage sticks for just $17.54 (around the same price you would pay for a single stick). And if you want some smaller ones, you can also get a pack of 3 3-inch sticks for $7.95!
---
This is the 2nd time I've read this book, and it's so informative and hilarious at the same time. "Why Men Don't Listen and Women Can't Read Maps" is written by a married couple thats showcases scientific evidence on the physical, emotional, and psychological differences between both genders. I had to start reading this again to brush up on this knowledge because Jun and I live together alone, so understanding him has been very important to co-exist with him so closely during this self-quarantine. While I love him to bits, sometimes his male tendencies can really get under my skin. Lol.
For everyone else who is self-quarantining with their partners, I highly recommend giving this book a read! It's packed full of scientific research on why men and women each respectively do certain things or think certain ways, but it's full of humor and written in a way that's engaging and not boring at all. I definitely feel like I understand Jun a lot more as well as the other male figures in my life thanks to this book.
---
Although I've gotten a much better hold on my anxiety over the past 2 years, I feel like I've been bombarded by a barrage of anxiety attacks this past week every time I read or watch the news. The 5-4-3-2-1 grounding technique was something that my therapist taught me a few years ago, and practicing this during my anxiety attacks has helped me overcome each one.
It's a simple yet powerful technique that's designed to get your mind away from the grip of anxious thoughts and back into the present. When you're having an anxiety attack, pay attention to these things in this order:
Look For 5 Things You Can See: Notice the wood grain on the desk in front of you. Or the precise shape of your fingernails. Become aware of the glossy green of the plant in the corner. Take your time to really look and acknowledge what you see.
Become Aware Of 4 Things You Can Touch: The satisfyingly rough texture of the car seat. Your cotton shirt against your neck. If you like, spend a moment literally touching these things. Maybe notice the sensation of gravity itself, or the floor beneath you.
Acknowledge 3 Things You Can Hear: Don't judge, just hear. The distant traffic. The voices in the next room. As well as the space between sounds.
Notice 2 Things You Can Smell: If at first you don't feel like you can smell anything, simply try to sense the subtle fragrance of the air around you, or of your own skin.
Become Aware Of 1 Thing You Can Taste: The lingering suggestion of coffee on your tongue, maybe?
This might be a bit to remember, but the goal is not necessarily to remember these items in the correct order, but to get your brain away from its current processes and to think actively about your current surroundings. For more context, check out this blog post that breaks down the 5-4-3-2-1 technique perfectly.
---
This Week's Quote: "Find the helpers. You will always find people who are helping."- Fred Rogers
It has been so incredibly hard to stay positive when both the news outlets as well as our social media feeds are constantly bombarded with terrifying and anxiety-inducing news. But like Fred Rogers once said, "find the helpers. You will always find people who are helping." It may feel like the bad news outweighs the good, but we must focus on the good that's being done in the world as a result of people who are genuinely changing it for the better.
That's it for this week's Friday Favorites! If you liked Volume 5, be sure to subscribe to my newsletter below so you get informed as soon as I hit publish on a new Friday Favorites post. And don't forget to follow me on Instagram!
---
More Posts to Check Out: