This page may contain affiliate links. If you make a purchase through any of these links, I may make a small commission. Click here for my full disclosure statement.
We're returning this week with Volume 2 of Friday Favorites! Each week, I share a few of my current obsessions from fashion, beauty, lifestyle, and more. This week, my main obsession is this addicting lentil dip that I can't seem to stop eating (as you can see from me already grabbing for more crackers while I still have one in my hand and another in my mouth). Don't look at me like that (Tiktok joke for those of you who aren't on the bandwagon yet).
I love trying new things, so give me some of your recommendations as well! If you try anything in this blog post, drop a comment at the bottom and let me know how you liked it!
More Friday Favorites:
---
I am a big essential oil junkie (not sure if you couldn't tell from the many blog posts I've written on essential oils already). One of my favorite essential oils has always been Rose, but if you're familiar with essential oils then you might know how expensive Rose essential oil can be – it takes about 22 pounds of rose petals to create just 5 ml of Rose essential oil!
I'm a huge fan of Edens Garden, which has been voted #1 non-MLM essential oil company for a few years in a row. I've previously used both Young Living and DoTerra oils but made the switch to EG back in 2012 because I did a few side-by-side comparisons and EG oils are just as good in quality. Not only are their oils much more affordable than YG or DT, but their Rose oil is true to the Bulgarian Rose Scent. Their Rose roll-on is also diluted down to 5%, so it's ready to use, still carries a strong smell, but is extremely affordable at just under $20! I've been rolling this on my hands, elbows and knees since they've been my top troublesome dry areas this past winter. It's so soothing, hydrating and calming to dry itchy skin! Plus, the scent is an amazing mood booster. It's so calming, clean, and uplifting.
---
Winter has been killer on my Raynaud's. I've had to invest in warmer clothes and pay more attention to the materials, because materials like cotton or cotton/polyester blend now bother me, as I wind up getting cold and can't retain heat, which triggers a Raynaud's flare-up. This cardigan has been my godsend: it has 25% wool, so it's warm yet still pretty affordable (the higher the wool blend, the pricier it gets). It's not itchy either, which is a huge factor to consider with wool clothes. It's so warm and cozy that I basically wear it over everything when I'm at home, but it's still casual and cute enough that I can still throw it on over my outfit if I'm in a rush out the door. I have it in Grey Heather (as shown in this blog post's photo), but I'm thinking about getting it in both Camel Heather and Black because it's just such a closet staple.
Ps. I normally wear a size M in tops, but went down to a S because I'm short and was worried about it being too long. Fits perfectly and still looks relaxed and oversized!
---
I think out of everything this week, I was probably most excited to share this incredible lentil dip. Last week I hosted a game night and one of my amazing friends Irel Oliver brought a big bowl of this lentil dip – bless her Registered Dietitian soul for considering my extremely limited dietary options – I literally ate nothing except this dip and pita crackers the entire night. I kid you not. We even had some left over and I ate the rest over the course of the next few days, so that shows exactly how much I love this stuff! It's so satisfying, refreshing, filling, and healthy thanks to all the fiber and protein that this dip contains. It's a guilt-free (or less guilt) snack!
You can follow the recipe to the T, but I literally just used the entire bag of Trader Joe's steamed lentils (you can find this in the top-most row of the produce section) and an entire tub of Trader Joe's Bruschetta sauce. Feta is entirely optional and it makes the dip taste heavenly, but since I try to avoid dairy in general, the dip is still amazing without it. I don't even add extra virgin olive oil or lemon, and it's still amazing. Don't forget to serve it with Trader Joe's Pita Bite Crackers (not in the chip aisle – look for where all the crackers are!).
I went to Trader Joe's for the ingredients and made a big bowl just to take this week's Friday Favorites photo, and I'm basically already halfway through the bowl just a day later. Can you die from too many lentils? Asking for a friend…
---
Dry skin has been the bane of my existence this winter. Never in my life did I think that having dry skin could be so disruptive to my life! Jun grew concerned when he saw my legs tattered with cuts, scars and bruises from all my scratching, so he bought me this humidifier, and my goodness, it's been a lifesaver. It's also been super helpful for his asthma, which tends to flare up during the wintertime.
I highly recommend getting a humidifier if dry skin bothers you (both body and face) – it's also just good to have around to help keep your nasal passages moist and not irritated from the heater you might be constantly using during wintertime!
---
I was casually scrolling through my Instagram feed when this promoted Walmart post popped up last month, and I literally have not stopped thinking about this photo since then. At first glance you would have thought it was a West Elm photo: this space is so well-designed that I can't stop fantasizing about this crinkled velvet comforter set. It works so well against a wood-tone room! I love the rich navy color tone against the textured velvet. My goodness. And $133 for a king set? Not too shabby.
I've been trying to find this exact comforter set at my local Walmart, but they're constantly sold out! Maybe it's a sign that I need to stop buying so much stuff. I am tempted to order it anyway. Ok Walmart, you've impressed me. I see you.
---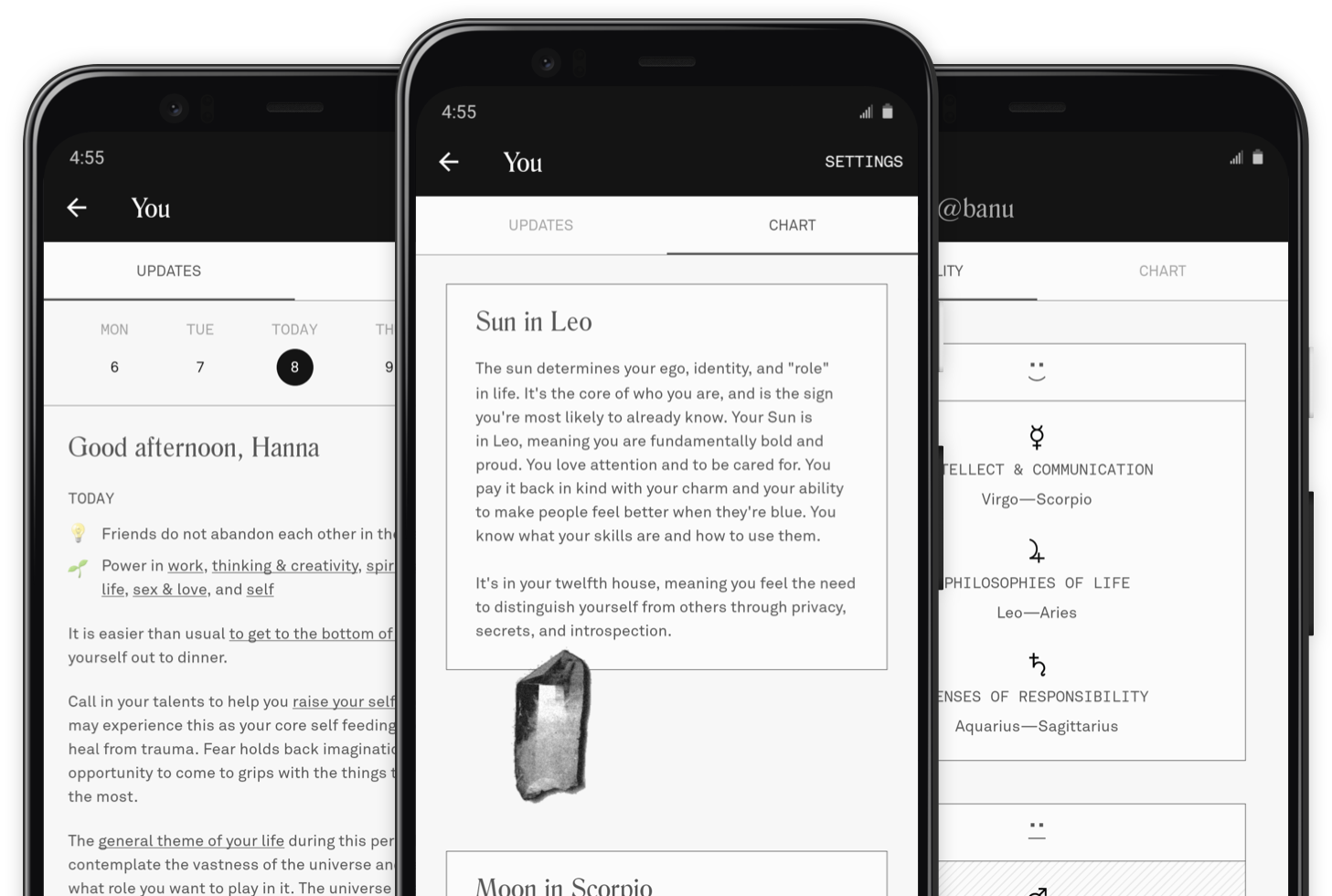 I think it's awesome that a lot of millennials and Gen Z'ers are getting into astrology on a deeper level. Up until 2012 I always thought astrology was some "woo woo" stuff written by magazine editors to give excuses for people's poor behavior, but after I started studying it on a much deeper level it's given me so much insight on human traits, why we do or say the things that we do, etc. If you are fascinated by human behavior, I highly recommend learning more about astrology through Co-Star, which is an amazing free app (available for both iOS and Droid) that can take you further down the astrology rabbit hole.
All you need is your birth date, birth location, and the exact time that you were born. The app automatically draws up an easy-to-read chart based on this information and cross-references it with both NASA data and the insight of human astrologers. The daily blurbs can be creepily coincidental, while others are quite abstract and make you reflect on your day as it unfolds.
The best part of the app is that you can add your friends on the app and take a look at their birth chart too: the app explains your compatibility on a much deeper level, using your birth chart's planets, signs and houses – not just your sun sign (because no, your 1 sign is not the only sign you have!)
Many of my friends have hopped on the Co-Star app and have learned so much about astrology and are now using it as a tool for self-reflection and growth. Astrology is in a way a form of self-therapy, and I highly recommend giving Co-Star a try if you're looking for something that satisfies this.
---
The time that this podcast episode popped up on my Podcast app was uncanny. Last week I went through some pretty awful symptoms with the liver detox I attempted, which scared me out of continuing the protocol. I was feeling extremely discouraged and frustrated because I've been researching and doing all that I can to change my lifestyle and heal my Raynaud's, but it feels like I've made zero progress.
This episode of Expanded was exactly what I needed: hope and validation. Lucy not only shares her story about infertility and how she's been using this protocol to overcome this, but also interviews Karen Hurd, a nutritionist that saved her daughter from death by chemical poisoning. It's an amazing episode about healing chronic illnesses, how important the liver is to filter toxins out, how a dysfunctional liver creates all sorts of illnesses (from autoimmune diseases to infertility and everything under the sun), and how to heal it. It's a lengthy podcast episode, so I highly recommend listening to it when you go on a hike or are cleaning the house.
You can also check out the podcast episode on Apple Podcasts, Spotify or Stitcher.
---
I've been following the fanserviced-b blog for a while now because I absolutely love all of her Korean beauty product reviews and her refreshing dose of honesty. But I love this blog post that shows how she was able to leverage her credit cards and pay for her trip to South Korea. Travel hacking is a huge trend and makes flying business or first-class affordable for those who would otherwise never be able to afford it. I never really quite understood how, but this blog post is a pretty great breakdown that explains how those credit card points can be converted into first-class plane tickets.
Travel hacking also explains how a lot of these influencers are able to fly all the time via business and first-class. I feel like I get it now!
---
This Week's Mantra: "Everything will get done."
Contrary to what I may show online, I have an extensive history of crippling anxiety. Coupled with an unhealthy dose of perfectionism, and we've got a great toxic cocktail of self-inflicted impossible standards to meet.
I've always had a tendency to overfill my plate, which would, of course, result in becoming overwhelmed and then doubting my ability to get things done by a certain deadline. I've really had to sit on the mantra "everything will get done," because while it sounds so simple, it does make sense.
I can spend a lot of time worrying about what's not getting done on my to-do list, but in the end, I'm still going to get those things done anyway – carrying the emotional weight of worrying about it as I am already diligently working through it just makes the process much less enjoyable and more unnecessarily stressful. I've been repeating this mantra when anxiety has crept on me this past week, and it's really done wonders at keeping me calm and reassuring me that, well, everything will get done.
It sounds like a no-brainer, but sometimes you need to read/hear/say this to yourself that everything will get done, because that statement holds so much power of reassurance and comfort. Sometimes, that's really all you need to power through it.
I hope you enjoyed this week's Friday Favorites! If you liked Volume 2, be sure to subscribe to my newsletter below so you get informed of a new Friday Favorites post as soon as I hit publish!
---
More Posts to Check Out: