This page may contain affiliate links. If you make a purchase through any of these links, I may make a small commission. Click here for my full disclosure statement.
It's getting hot in Southern California, so my workout regimen has moved up to around 6-7AM. As much as I love all of the social activities during this time of year, I've never been fond of the triple-digit weather we get, and since we're sheltering in-place, there isn't much to do except lounge around at home and sweat like crazy. Are you guys feeling like this perfectly good summer has gone to waste, or is it just me? But in retrospect, staying at home is worth it as long as everyone is remaining safe and healthy.
What's New This Week:
I'm about 95% done with the guest bedroom redecoration project! This weekend Jun is going to install the curtain rods and then we've officially completed phase 1 of this room makeover. The last few things to do to this room is to upgrade the closet with an IKEA PAX wardrobe unit, install wood planks on the ceiling to hide the popcorn ceiling, and change out the flooring and trim, but those will be done later on when we do all the flooring throughout the house. However, with the fresh paint, new bedding and cohesive decor, it's amazing how different this room looks! I can't wait to publish a blog post on this so I can share the before-and-after.
After many, many stressful telemedicine appointments this past week, I've finally made the decision to begin therapy again. The last time I had therapy was online through BetterHelp 2 years ago, but now I have a whole new series of issues (mostly coping with autoimmune), so it would be nice to unpack it all through regular therapy sessions. Just a reminder: therapy doesn't make you weak or "crazy," and I'm a huge advocate for prioritizing your mental health! If you're stressed out, I welcome you to look into counseling and therapy because it does wonders for stressful periods in our lives that make us feel powerless or overwhelmed.
Volume 19 of Friday Favorites starts now!
More Friday Favorites:
---

I've been on the hunt for an affordable body butter that hydrates and absorbs well, doesn't feel greasy, has minimal ingredients and preservatives, doesn't smell too strong or synthetic, and is affordable – I know, a lot of expectations here – and Trader Joe's Cucumber Avocado Body Butter checked all of the boxes. I've been really picky about body butters because of my intense dry skin from my autoimmune, and I've been on the hunt since November of last year when the itching first started. At under $5, I figured it was worth trying out, and I wasn't disappointed! I believe this is a seasonal product at Trader Joe's, so grab a jar before it sells out!
---
Longsleeves probably aren't the most practical thing to be wearing during a summer workout, but I had to share this one. I've been waking up at 5AM to go on morning runs before it warms up, but the brisk morning weather still flares up my Raynaud's. I wore this super cute longsleeve on a run this week and I was pretty happy with it! The fishnet detail and sweetheart cut is really stylish and flattering, and the material does a pretty good job up keeping in heat but is still breathable (it kind of reminds me of lycra). It also has thumb holes which adds a functional yet stylish statement!
---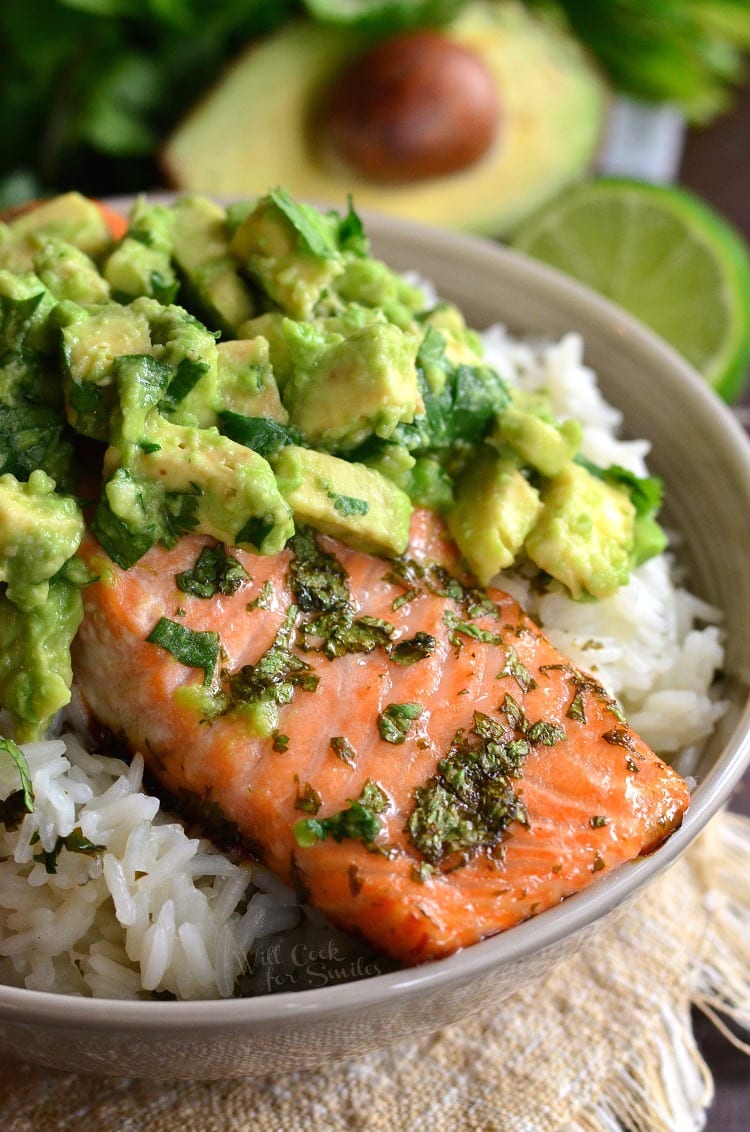 This avocado salmon rice bowl has been one of my monthly dinner staples for almost a year now, but even more delicious and refreshing during summer! It's packed with healthy fats from both the salmon and avocado, and the cilantro is a nice detoxifying and alkalizing herb to top the dish with (I add a ton, but you can also omit the cilantro altogether). I serve it with a side of asparagus and then it's perfect.
---
Have you heard of the Booty King? He's a popular personal trainer that focuses on building and shaping the glutes, and aside from selling his Booty Building Program, he also sells "Booty Bands." These are basically really thick resistance bands you loop around your legs for targeted resistance exercises to work out the glutes more effectively. His Booty Bands are $29 each, and I wasn't going to pay that price, so I found basically the same product in a set of 3 for only $14.99. I recommend these ones over the stretchy rubber ones because those can rip easily and roll down too easily, while these offer better resistance, don't roll around, and are more durable.
---
One of the first kitchen appliances I bought when we got our own home was our Tayama Non-Stick Indoor Electric Grill. Jun and I love Korean BBQ but hate the restaurant prices, so this nifty tabletop grill has been our godsend! We get our galbi, bulgogi and KBBQ marinade from the Asian market, so aside from making the banchan, having a Korean BBQ night at home is super easy (take that, COVID!). And when it's too hot, we wind up using this inside of our outdoor grill in the backyard. It's nonstick, dishwasher-safe, and really affordable, so if you like Korean barbecue definitely get one!
---
I've been playing Animal Crossing on my Nintendo Switch every day during July, so it was only fitting to get some protection! I got this really cute Sailor Moon decal along with a clear plastic case and screen protector for extra protection, so undoubtedly my Switch is protected from scratches and potential impact from drops. The Etsy shop owner also has the same design in pink & blue, white, pink (Lite), green (Lite), and yellow (Lite).
---
Entertainment: Hollywood (Netflix)
I was surprised by how much I enjoyed Hollywood. It's a story of aspiring actors and screenwriters in a post-World War II era trying to break into the movie industry, despite none of them – except for one – is a young heterosexual Caucasian male. The diverse characters in the cast (female, gay, old, Black, Asian, Jewish) paint such a larger story of the people who have tried to break into Hollywood and change the status quo from the inside. Although it may not be completely accurate to history, it is a very interesting drama that really makes you think about American culture and how the status quo was developed through Hollywood.
---
Have you ever thought about the power behind our choice of words? I had an engaging conversation with one of my best friends this week about the way we use our language either supportively or antagonistically towards ourselves, and the words "want" and "need" were the biggest focuses. I'm sure you used to look forward to a specific task like your skincare regimen, and after some time it began feeling like a chore. Using this example, it is interesting to see how we can simply reframe our tasks by switching our language up in a way that can actually motivate us and change the entire outlook of the "chore." For example: "I need to do my skincare regimen tonight" sounds dreadful, whereas "I want to do my skincare regimen tonight" sounds more like a treat to look forward to. Thanks to neuroplasticity (which I talked about in last week's Friday Favorites featuring this blog post), we can actually train our brains to see things in a way that better serves us by making certain habits a common practice – our choice of words is one of these things. "Want, Don't Need" on Psychology Today did an amazing job of simplifying this concept. I really welcome you to check this out and see how you can integrate this into your daily vocabulary – I bet you, it'll make a difference in your outlook on many things!
---
This Week's Curious Thought: "We emphasize needs – but what about our wants?"
I know of many "motivational" quotes about prioritizing our needs versus our wants, but although they mean well, the subliminal messaging behind prioritizing our needs sometimes leads us into that black-or-white thinking that forces us to work overtime and never enjoy ourselves. Just like the blog post I mentioned above, I don't feel like there is enough social encouragement to pursue our wants and too much emphasis on our needs instead. Think about the way we judge others for treating themselves to a new pair of shoes and jumping on them for not using that money towards something more "responsible." I know that we all need to have our basic needs met, but sometimes there is too much focus on working to the point of misery that we fail to allow ourselves the things that bring us joy. Small tokens of self-love like wanting a bubble bath instead of doing extra work after you get home or wanting to say no to a career choice that our parents force us to be in versus quietly accepting this life path are the very choices I'm talking about. There is so my guilt that surrounds self-indulgence and fulfillment, but yet we still choose not to give enough attention to the things we want.
That said, I'm going to focus more on replacing the word "need" in my vocabulary with the word "want" (like "I want to workout because I deserve a healthy body" versus "I need to workout because I'll feel like a failure if I don't"). Doing these kinds of mental exercises has greatly improved my outlook on life and helped me handle stress because being careful with my words dictates the internal dialogue that I have with myself. Everything that follows after the words "want" and "need" have so much power to shape how you view a situation!
That's it for this week's Friday Favorites! If you liked Volume 19, be sure to subscribe to my newsletter below so you get informed as soon as I hit publish on a new Friday Favorites post. And don't forget to follow me on Instagram!
---
More Posts to Check Out: