This page may contain affiliate links. If you make a purchase through any of these links, I may make a small commission. Click here for my full disclosure statement.
Help, I've fallen into a reading hole and I can't get out!
I finally got out of my Animal Crossing addiction and have reduced my gameplay from 24/7 to 1-3 hours a day, but it was because I was making time for reading!
What's New This Week:
I finally got some news back from my doctor and have been diagnosed with fatty liver. Considering I've cut alcohol from my diet since November, it's likely a diet-related or EBV related (really validating my theory of sluggish liver!). I'm surprisingly not devastated – in fact, I feel more optimistic knowing I've received some sort of diagnosis because now I have a starting point.
I was feeling pretty fatigued this week, but I had some energy in me to slowly make my way through painting the guest bedroom. I've received most of the furniture and decor I ordered already, so next week I'll slowly work through hanging up the wall art and putting everything in place!
Here's Volume 18 of Friday Favorites!
More Friday Favorites:
---
Beauty: Space Buns Tutorial
Since my hair has started thinning and falling out, I'm trying to do as little damage as possible to my hair, which means my styling options are pretty limited. I've been putting my hair up in "space buns" a lot ever since I finished watching all 5 seasons of the original Sailor Moon, so I figured I'd share this useful tutorial. It's a really cute and unique hairstyle you can use for "no wash" days that can dress up a casual outfit (especially if you're just staying home and want to feel cute).
---
Style: Playboy x Missguided Tie-Dye Set
I've been pretty obsessed with the Playboy x Missguided collection, AND since tie-dye is back in trend I couldn't resist getting this T-shirt along with the matching sweater and sweatpants for when winter comes around. I was looking into James Charle's Sisters Apparel tie-dye hoodies and sweatpants, but with the price being so high and the stock selling out in just minutes, I opted for a more accessible option that's just as cute.
---
Food: Trader Joe's Halloumi Cheese
Two words: Grilled. Cheese. Literally. I'm not talking about a grilled cheese sandwich, I'm talking about literally putting cheese on a grill and grilling it. Halloumi is a kind of cheese that has a high melting point, so you can grill it like a steak. It's salty, savory, cheesy, and delicious, and you can use it as a low-carb crouton substitute in a salad or as a warm alternative to cold mozzarella in any dish. Trader Joe's only carries this during the summertime, so definitely pick some up on your next trip to the grocery store and tell me what you think!
---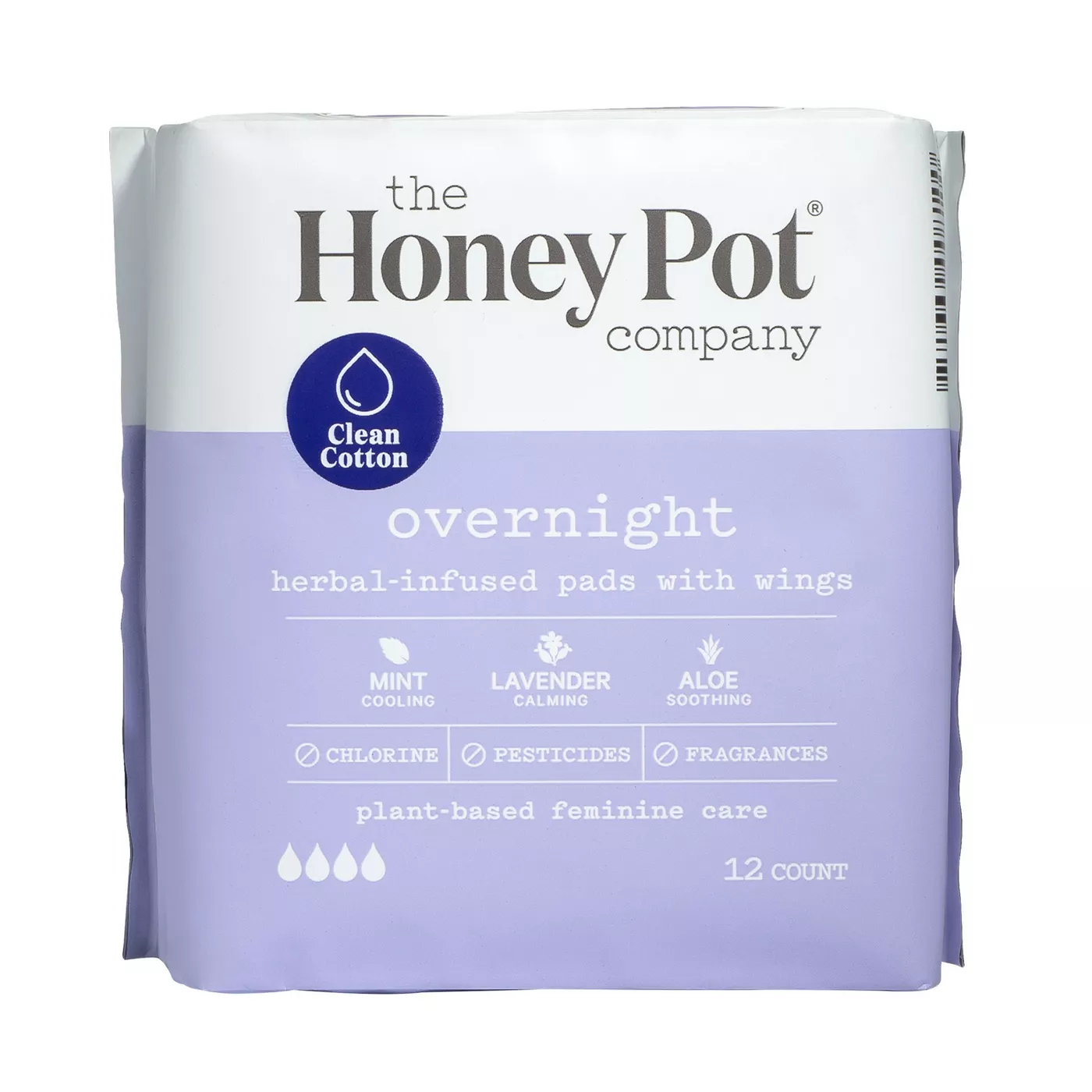 I've been trying out a lot of Black-owned brands to create more diversity in my shopping consumption, and I admit, I was always curious about The Honey Pot products at Target but never looked into them until now. I was not disappointed with their herbal-infused pads! I always use chlorine-free, fragrance-free and organic feminine products because I've noticed that they do make a difference. Regular chlorinated products make me red and itchy, and I feel so much better down there with these pads – I even have a lighter flow and less cramping! There's a subtle cooling sensation, which actually feels nice and makes my period a lot more comfortable. I highly recommend trying out The Honey Pot for your next period!
---
If you follow me on my Instagram stories, you probably know how many color samples I went through before finally settling on Behr's Nile River. This is a gorgeous sea-foam green that worked excellently in my guest bedroom along with my gold and emerald accent colors. I can't wait to show you the final reveal of the room, but for reference, this is the exact color I used! I went with a nice eggshell finish so that it looks matte, but is still easy to wipe up and keep clean.
---
Lifestyle: Amethyst Crystal
I've been focusing a lot on my healing lately (both physically and emotionally), and amethyst has been a crystal I've been working with a lot lately. Here's a quick excerpt from this blog post on the physical healing properties of amethyst:
"On a physical level, Amethyst also associated with healthy cell regeneration, encouraging soothing sleep and rest, and promoting hormonal balance. As Amethyst helps balance metabolism and positively serves the endocrine system, the body finds its inner harmony and doesn't go too crazy on the cortisol production – which dramatically cuts down on stress and tension. Along with all of this, the purplish hue of Amethyst also ensures that the body, mind and soul remain cleansed and detoxified. For those who struggle with a foggy head or migraines, then Amethyst can also help clear those clouds away."
As well as the emotional properties:
"At a base level, Amethyst is renowned for bringing a sense of calm and clarity to our chaotic world. Those who keep Amethyst close will find that they feel comforted, grounded and soothed in a truly uplifting way. Because Amethyst centers the emotions, it can be a beautiful aide in recovery for those suffering from the overwhelming emotions that come with grief, loss and all shades of sadness. Thanks to its divine spirituality, it's a great stone for reminding people not to fear the unknown."
I've been keeping an amethyst crystal underneath my pillow since I've been waking up a lot at night, and it's been really helping me get more restful sleep. I also have a small tumbled one that I keep in my pocket as well. I'm looking into getting some wearable amethyst jewelry but haven't settled on one yet – I know Etsy has a lot of options for amethyst crystals and jewelry though, so I've linked a lot of them above.
---
I'm not big on Young Adult books at all (the last one I read was The Hunger Games in 2010-ish), but seeing as all I ever read nowadays are self-improvement, psychology and business books, I felt like I needed to allow myself a fictional story to indulge in. In one of my Facebook groups, someone suggested the Zodiac series and said it had a very Hunger Games-kinda feel. I read it in literally two days, and I'm currently on the second book in the series. It's my guilty pleasure – even though I'm approaching my thirties, it's so good!
Zodiac takes place in a future world where people live in different "Houses," all represented by each zodiac sign. The people of each House function as their own nation within the planets and stars of each zodiac sign's constellation and each House has its own culture. They're all divided until a mysterious force (Ophiuchus, the supposed 13th sign) reawakens and starts annihilating each House, one by one. By no choice of her own, a teenage girl named Rho is dubbed the Guardian of House Cancer and tries to stop Ophiuchus before he destroys the entire Zodiac. It reminds me a lot of the Hunger Games, where the female protagonist is given the role of saving the world and leading a revolution, along with a juicy love triangle. If you're into astrology and have always wanted to read a story that's based on the personalities of the 12 zodiac signs, Zodiac is your book!
---
Have you heard of the spiritual term "manifestation?" I actually talked about it a few times before in this post, this post, and this post. It has always been a little difficult for me to explain to others because it is such an abstract concept that can come off as really "woo-woo"-y. Manifestation is the idea that your thoughts and energy are like magnets, so you can attract what you want into your life; likewise, you can also attract what you don't want if it becomes your sole focus.
I know that this concept can be very challenging to grasp, especially when we are rooted in such a material world where we need physical proof in order to believe something. "Neuroplasticity" explains the scientific side of how manifestation works: basically, it's your brain's ability to reorganize yourself based on new thoughts and behaviors that can alter your perception of any situation.
While I want to be careful not to steer people into toxic positivity (which I discussed in last week's Friday Favorites), the scientific and neurological explanation of how "positive thinking" works definitely makes the concept of manifestation a lot easier to understand, especially if you're more of a practical person. I definitely recommend checking out this post: The Science Of Manifestation Through Neuroplasticity.
---
This Week's Affirmation: "Whatever I want will make itself available to me."
What a gutsy phrase to say. I know, it's not for the faint of heart.
I come from an upbringing where scarcity and lack ruled the mindset of the household I grew up in. My parents immigrated from a country that still deals with poverty in many of its regions, so I grew adjusted to always being told there wasn't enough money for this, that, or the other. As an adult, I see how being in this environment has wired my brain to believe that there is never enough to go around, or that there's never enough for me. This limiting belief has been a difficult beast for me to overcome, and it's taken me years to consciously rewire my brain into believing that I can achieve and obtain anything that I truly desire (albeit, with inspired action, of course! Desire is simply not enough.). Thanks to learning how manifestation and neuroplasticity works, I've been able to replace those scarcity-based thoughts with more empowering ones where I believe that whatever I want will make itself available to me. And strangely, they do.
If you're new to the concept of manifestation and this affirmation doesn't vibe with you, feel free to pick something else out, like "I can achieve anything I set my mind to," or "I will get the object of my desire!" The key to choosing affirmations to use as mantras is to use one that you genuinely believe in, otherwise, it won't work. A while back, the old me probably would have never believed in this phrase, but I've worked up towards using this phrase. I fully believe it now, and lately, things have actually been making themselves available to me!
That's it for this week's Friday Favorites! If you liked Volume 18, be sure to subscribe to my newsletter below so you get informed as soon as I hit publish on a new Friday Favorites post. And don't forget to follow me on Instagram!
---
More Posts to Check Out: