This page may contain affiliate links. If you make a purchase through any of these links, I may make a small commission. Click here for my full disclosure statement.
It's finally starting to get hot in California! I've finally swapped out my fall and winter wardrobe for my spring and summer clothes and also have been revamping my at-home menu for more summer-friendly dishes like salads and grilled food. I've also been on the lookout for loose and flowy clothes and swapping skinny jeans out for girlfriend jeans (more on this below) and skirts.
Since it's been warm enough to go out and exercise without getting a Raynaud's flare-up, I've been running outside during sunset pretty consistently over the past week. Getting some fresh air and good weather has been encouraging me to bring my at-home workouts outdoors!
What's New This Week:
I was feeling pretty crummy for the past 2 weeks, so I've been going back to exercising consistently to let out all that energy and make myself feel better physically. I've been spending a lot of time reading and playing video games, but all that inactivity coupled with snacking has made me really sluggish. However, despite my laziness over the past few weeks I'm proud that I've been maintaining my weight with minor fluctuations so far. I've been successfully managing my weight and overall health with Noom for about a year now and was able to drop from 156 lb down to 135! I'll be writing a blog post pretty soon about my weight loss experience with Noom, so be sure to keep your eyes peeled for that.
It's time for Volume 13 of Friday Favorites!
More Friday Favorites:
---
I'm not alone when I say that when I allow my hair to air dry after a shower, it gets super frizzy. Although I've been told by my hairdresser to use product and to avoid rubbing my hair back-and-forth when towel drying, my hair still gets frizzy. These microfiber towel hair wraps have been a heaven-sent solution! I've been using these exact ones for two years now and they greatly reduce the post-shower frizz. All I do is wrap my hair with these towels after showering and leave it on while I do my skincare regimen or do my makeup, and hair is much more tameable and less poofy when it fully dries (it also dries much faster after I take it off). I definitely recommend it if you are looking to reduce heat damage on your hair but also reduce the frizziness that comes along with air drying!
---
Ever since I discovered the Daily Ritual brand on Amazon, I've fallen in love with their jeans. These women's Girlfriend jeans are my 3rd pair of Daily Ritual jeans and also one of my favorite jeans ever! I'm short and curvy, so I've spent years looking for an affordable girlfriend jean that didn't make me look stocky or minimize my curves. This pair is great quality, comfortable, comes in a few different washes, and has a really great price tag. I had them in my cart for a few months but finally pulled the trigger when they dropped down to $17. They're currently $39.99 (which is still a great price for these jeans), but I'd keep my eye on them because they're likely to drop in price again.
---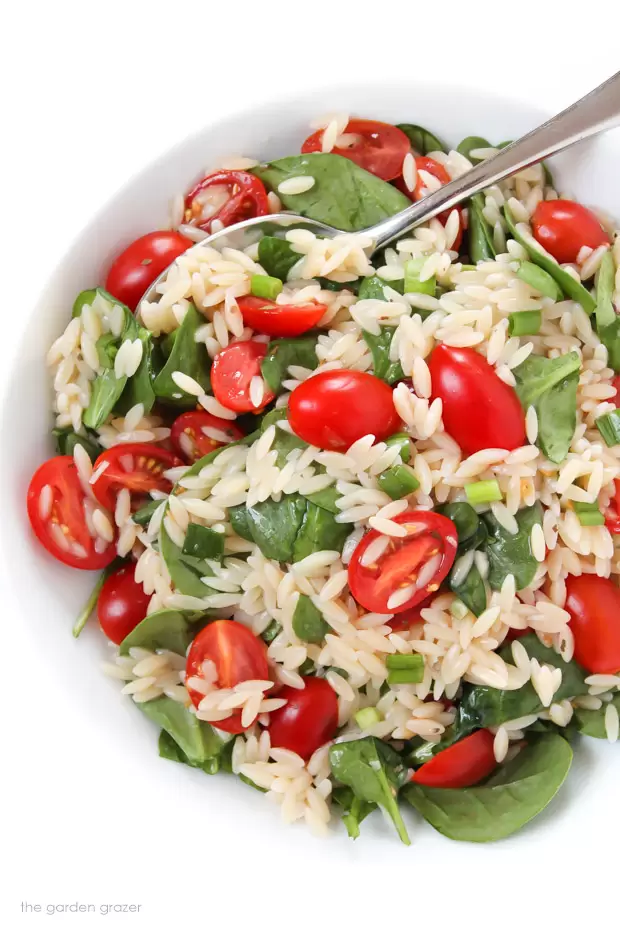 I admit, I am not a big pasta salad person, but I cannot get enough of this orzo salad! It's not thick and creamy like most pasta salad dishes are: it's a zesty and refreshing light side dish to enjoy with fish or barbecue. It's also lighter on the calories compared to pasta salads that use a lot of mayo and potatoes. I highly recommend bringing this to a summer potluck or picnic.
---
Why are adjustable dumbbells so expensive? I feel like a lot of the basic sets I see online are at least $100, and for a decent set is around $300+. I really like this dumbbell set because you can change the weights out and they're also vinyl, which is less damaging for hard floors. I know a lot of us are trying to stay fit at home and may not want to go to the store to buy stuff, so this was a great affordable online option. Get your swole on!
---
I adore these dining chair slipcovers – we got these to save money on new dining chairs and cover our existing ones for the time being, and they've held up so well since we bought them back in November 2018. These slipcovers are stretchy so you can tuck them into the cushions and can make aged dining chairs look brand new. Our pleather dining chairs were cracking and looking really worn, but these gave them a 2nd life.
---
Have you guys heard about The Pattern? It's an app that uses your birth date, time and location to provide you with more information about yourself and the way you interact with the world. Although it doesn't mention any bit of it on the app, the information is based on your astrological birth chart, which shows you patterns that happen within your life. It's got a bit of a social media component to it because you can connect with your friends and learn more about their patterns, which makes it even more insightful. I highly recommend it if you're into self-improvement and growth!
Channing Tatum's hilarious Instagram rant really summarizes how mostly everyone feels after reading about themselves on this app. The patterns it reveals will hit you close to home, and it's almost creepy in its precision. It's immersive, introspective, and a great tool to better understand yourself.
---
Wynn from Wander x Luxe actually recommended "Many Lives, Many Masters" to me, and I finished it in less than two days. Brian Weiss is a psychiatrist who was known for using hypnosis on a patient with trauma in order to help heal her, but instead, they wound up unintentionally discovering her past lives and learning from the ascended masters. Weiss came from a very practical medical background, but through working with this patient he discovered that past-life therapy is an amazingly effective tool for many people who are struggling with difficult life situations. The book reads like a fiction novel, but it's actually true documentation of his sessions with this client. It's an absolute must-read if you've been curious about the subjects of reincarnation, what happens after death, grief, or are just curious about spiritual stuff in general.
---
If you are interested in the above book but have no time to read it, check out this interview Oprah Winfrey did with Dr. Brian Weiss. He discusses his discoveries about past life regression therapy with the first patient who changed his perspective about life after death as well as how this form of therapy has helped thousands of other patients around the world.
---
This Week's Curious Thought: "

Triggers are our teachers."
I've been following @the.holistic.psychologist on Instagram for a while now, and she's got so much wisdom to share in regards to self-improvement and healing. I encountered a very uncomfortable situation this week that was highly triggering as it resurrected a lot of traumatic feelings, but it's refreshing to remember that triggers can be our teachers. Here's an excerpt from her corresponding Instagram post:
"When we are triggered, we are emotionally activated. There's nothing negative about being triggered. It's a calling to heal our wounds. It's a calling to self reflect + to get curious about the reaction we are having.
A trigger is when we experience the past in the present moment. The nervous system activation can cause a racing heart, sweaty palms, or a freeze/shutdown stage. Sometimes the trigger is smaller scale + we just feel annoyed, fatigued, or to put it simply "rubbed the wrong way." As we become more + more conscious, we are able to observe when we have these (seemingly) big reactions. Rather than reacting from our habit self (the conditioned self) we can pause. We can breathe. We can realize that being triggered is a calling to heal what has been unresolved in our past.
This is also called shadow work. Shadow work involves being open + non judgmental around what triggers us. It shifts us a space of being a witness. Observing. This is where our power lies. This is how we create a new version of ourselves by finding the present moment.
With practice, you'll see that the people who trigger you most have the qualities and behaviors of the people you had the most conflicted relationship with in the past. We project the conflicted parent relationship onto others the most.
You'll also see that when you become the most defensive around a life experience, it's because you see a past version of yourself being violated, harmed, or misunderstood. Keep observing.
All of this is your path to healing. To self love. And to freedom beyond the ego #selfhealers"
That's it for this week's Friday Favorites! If you liked Volume 13, be sure to subscribe to my newsletter below so you get informed as soon as I hit publish on a new Friday Favorites post. And don't forget to follow me on Instagram!
---
More Posts to Check Out: