This page may contain affiliate links. If you make a purchase through any of these links, I may make a small commission. Click here for my full disclosure statement.
Ah, Christmas. The time of the year when everyone claims they'd like to spend time with family, but dread the useless presents wrapped in colorful paper. Stop lying to yourself, you know you're mildly upset when Mom buys you an ugly sweater for Christmas and the price tag says $45.99 on it.
Last year, I wasn't making much money but I knew I had to fit in a budget for Christmas shopping in there somewhere. More than anything, I just wanted to hand every family member a gift and shout, "You get a gift, you get a gift, EVERYBODY GETS A GIFT!" But I wasn't sure I was able to that year. I felt that with my current income I could either get everyone really cheap and meaningless gifts, or I'd just revert back to my teenage years of not giving anyone gifts and awkwardly receive presents from everyone else.
But I was an adult now, and I had to figure out some way to arrive on Christmas morning with a bag full of really awesome presents in hand.
How planning ahead helped me save money on gifts
My total paychecks at the time were at about $568 per month. With my car insurance, gas, cell phone bill and groceries, I wouldn't have much else to spend when December came around.
What I was able to do was deduct $100 out of every 2-week paycheck, meaning it was only $50 out of my weekly living expenses. That was a feasible savings plan for me. After 2 months, I had $400 for a Christmas shopping budget.
It also helped me to physically withdraw this cash out of the bank and keep it in a "Christmas budget envelope" so I wouldn't wind up spending it on something stupid.
But then another problem came up: with such a small budget, could I really afford cool and unique presents?
I want to stress this: Christmas doesn't mean you have to spend a ridiculous amount of money to make people happy. But it also doesn't mean you should use that as an excuse to be stingy and give people lame and thoughtless gifts either. If you take the time to plan, you can give extremely thoughtful and personalized gifts at great prices. You must study your gift recipients, find items that fit their personality, and find them at a good price.
You have to be patient and resourceful.
Because I planned ahead, I was able to get 14 people (and 3 dogs) a great gift anywhere between $15 – $40 and stay within my $400 budget.
The best part about this frugal experience: I didn't have to charge a single transaction to my credit cards. I felt so much relief when I realized this, because every Christmas it always seemed like I was stuck with so much post-holiday credit card debt.
So to inspire you all, I spent some time compiling this extensive list. Here is my gift guide containing exactly what I gifted to my family and friends for Christmas 2015. Keep reading to see if I was able to stay under my $400 budget!
For Mom & Dad: A Spa Retreat
Groupon Voucher for a 60-minute Couple's Massage: $63.75
I purchased this Groupon awhile back because I had a 20% off discount, but decided to gift it to my parents instead. I printed the voucher out on some nice card stock and folded it in a gift envelope. Then I went to the dollar store and bought a basket, gift stuffing, cellophane wrap, 2 loofahs, 2 foot scrubbers and body soaking salts, for a total of about $11 after taxes. I packaged this all along with the Groupon voucher and a nice bottle of red wine I already had (I tend to have bottles of wine on-hand in case I need last-minute gifts).
My parents booked their massage appointment mid-January and wound up loving their massage therapists! To this day, they still continue to go to the same spa.
Groupon deals make perfect budget-friendly presents, and when dressed up and packaged with a few things from the dollar store, they can make a great gift basket.
For the boyfriend's mom & dad: Home Entertainment
A brand new ROKU 2 for $23.50 on eBay
If you're good at hunting for deals, you can probably find a brand new product on eBay to gift just like I did. I found a brand new in-box Roku 2 with a starting bid of $20.00… during the last 5 seconds of the auction I placed my bid and won!
Warning: Since eBay tends to have a lot of refurbished or pre-owned items, it's better to get a product listed as brand-new with original packaging so you don't look tacky. If you have any doubts, contact the seller to confirm the item's condition.
On Christmas morning, I gifted this to my boyfriend's parents and hooked it up to the downstairs family room TV. They loved being able to watch Netflix downstairs instead of having to go upstairs to their bedroom TVs!
For the women
My sister absolutely adores makeup, but is also very particular with her brands and colors. But how could anyone go wrong with a nude palette? I had a card for $20 in-store credit in my wallet, so I decided to use this towards this present, leaving me to pay only $9 plus tax.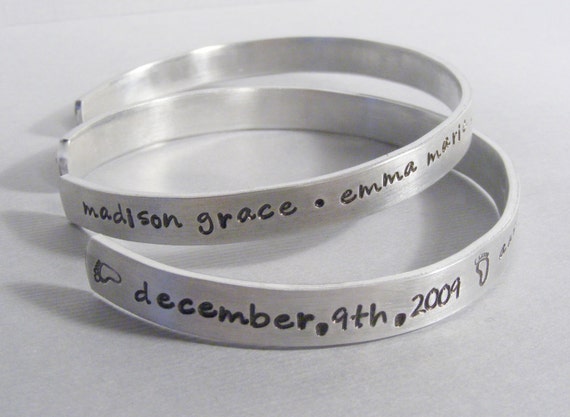 My sister is a dedicated mother to both of her kids, so why not engrave their names onto bracelets? I chose to place their full names along with their birth dates onto the bracelets and included the Etsy shop's business card, for any possible future additions to the family.
Sister #3: (2) Diamond Candles: $23.20 on Groupon
For those of you who don't know about the Diamond Candle phenomenon, this company has an extremely huge catalog of beautifully-scented candles and scented gifts. Not only are they high-quality and soy-based, but deep within the wax is a foil-wrapped ring and a code that you can redeem online. Lucky winners with the winning codes can actually redeem a real diamond ring! It's like Cracker Jack, but with jewelry.
I had a Groupon voucher for $60 towards a Diamond Candle purchase that I paid $23.20 for. Not bad, considering that the 2 candles I bought retailed at $24.90 each. My total was $49.90, so my $60 Groupon voucher covered the whole purchase! Folks, if you haven't hopped onto the Groupon scene yet, you can use my referral link and get showered with discounts.
For the men
My brother-in-law loves collecting swords, but unfortunately the swords he has are non-functional decor. This sword was simple but hand-crafted from carbon-steel, making it lightweight and a great starter katana to train with.
My brother-in-law is a math teacher, so this watch was perfect for him. It looks surprisingly chic when paired with a dress shirt and rolled-up sleeves. Think: J. Crew meets the Mathletes.
Brother-in-law #3: New Google Chromecast Digital HD Media Streamer – $25.99 on eBay
Just like the Roku 2 I scored for my boyfriend's parents, I was able to snag a Google Chromecast video streaming device for my brother-in-law to watch his favorite shows on Netflix. Since he has a Droid phone, he can use his phone to control the Chromecast too.



Boyfriend: A weekend getaway with flight and hotel accomodations to San Francisco
Only the best for bae! This was a huge present that I had to save up a few months for. I paid $268.92 for both round-trip tickets and $388.54 for the 2 nights at a 4-star boutique hotel in San Francisco. This present was actually excluded from my $400 gift budget because this had a whole separate game plan. You can read my blog post to see how I was able to book this weekend getaway for a fraction of the price.
Boyfriend's brother: A pair of Adidas Tubulars – $41.56
A friend of mine actually works for Adidas, so I asked if he could get me a pair of Adidas Tubulars using his employee discount. I know not everyone has this sort of hook-up, but you can get a pair of Adidas Tubulars here on Amazon
. Similarly, if you know anyone who can give you an employee discount, it doesn't hurt to ask!
For the streetwear enthusiasts and sneaker collectors in your family, online retailers like Karmaloop and Caliroots have a variety of streetwear at outlet prices. You can read my "Guide to Discounts on the Hottest Sneakers" to learn more about getting sneakers at extremely low prices.
For the kids
My niece absolutely loves anything with Princess Sofia, so this was a perfect gift for her. Since she was about to start preschool, I knew this toy could help!
I actually cheated a little on this one because this was a special request from her mother, but hey, I won't question it! It's a gift that was affordable and would definitely be put to good use. I'd rather give something that could serve a purpose rather than collect dust.
Nephew: Star Dedication with a Video, Message, Photo and Certificate – $5 on Groupon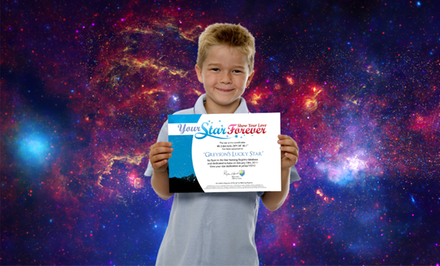 Your Star Forever is a company that allows you to dedicate a star in the sky and name it for a special someone. I picked out a certain star on their website and named it Delphinus, because my nephew's middle name is Delfino, after the passing of his great-grandfather. My sister and brother-in-law absolutely loved the thoughtfulness of this present and I'd have to say that despite it being my most affordable present, it was also the most heartfelt one I'd given.
I printed out the star certificate and bought a picture frame for $1 at the dollar store. I also paired it with this constellation projector night lamp for $10. The total of this gift was only $16.
For the pets
KONG Brand Toys: $5 each
Of course the fur-babies need toys too! I love KONG toys because they are so durable and last a long time. I was able to find KONG brand toys on Amazon for less than $5 each. Our families have a total of 3 dogs, so I was able to spend $15 for all 3 of them.
So, did I meet my $400 budget?
For my immediate family, in-laws, nieces, nephews, boyfriend's family, and even all 3 of our dogs, my grand total was $377.13. I was under my $400 budget! I excluded my boyfriend's weekend getaway to San Francisco, because that was an entirely separate project in itself. Again, you can read my blog to see how I saved up for that surprise.
The season of giving doesn't mean you have to give away all the money you have and go flat-broke. That said, will you start planning and buying your gifts soon? Tell us in the comments below!
Liked this post? Subscribe to our newsletter below to receive our posts in your email!